Animal Residue Specifications
In cooperation with a public association for animal carcass disposal (ZTS) this test had the purpose of establishing proof that it is possible to process animal residue in pressure-less catalytic depolymerization units (CC).
The CC technology utilizes a catalytic reaction in a fluid state at temperatures of 550°F and 50°F to transform the hydrocarbons contained in the feedstock into light oils, which can typically be used in internal combustion diesel engines.
The aim of the test was to establish that it is possible to effectively convert the feedstock, provided by ZTS into diesel fuel.
A positive result would substantially boost the economy of animal waste disposal and provide diesel fuel for one's own use and/or sale. It would not be necessary any longer to utilize large amounts of energy to dry the animal carcasses and convert them in a complex process into animal carcass meal. Rather the cut up and sterilized animal parts could be converted directly to light oil and used as a valuable energy resource. In addition, substantial environmental benefits could be achieved, as the animal meal residue does not have to be incinerated.
For performing this test, the ZTS made about 120 pounds of product available from current production, which was taken off the production line behind the disc dryer. This product is intended to be used, undried, as feedstock for the CC machine and its preprocessing. The chemical analysis resulted in the following composition.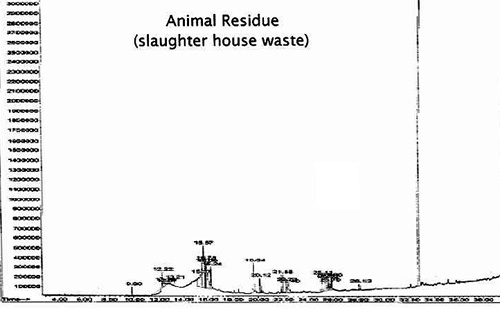 From the values above, it was obvious that the elements used as feedstock are suitable for the CC process
As a first step, a qualitative demonstration of the CC test unit was performed.
The feedstock material was first subject to a thermal pre-treatment process to make it digestible for the CC unit.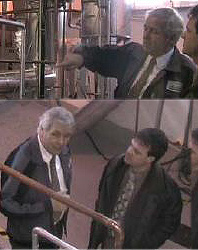 The test was performed over several hours and resulted in a positive reaction with a final liquid product, which was analyzed in detail. The demonstration was partly video taped.
Following this demonstration, the residual feedstock was tested again on February 3, 2005 in the presence of: Prof. Bach of Institut for Fahrzeugtechnik (Institute for Vehicle Technology), Dresden; and Prof. Siegel of Siegel & Partner Analytik (a test body, specialized in environmental and fuel analysis).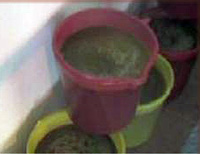 The purpose here was to document the test bench layout and professionally appraise the resulting fluid output.
The two institutes evaluated the results and their certificates follow.