Hostile Fossil
Continued production of fossil fuel and its unrelenting use exudes nearly 60 percent of the harmful emissions; causing the atmospheric cap of carbon dioxide to thicken and trap more heat over the earth.
85% of fossil fuel emissions—to our atmosphere. We need to step up and address the problem
In spite of our ability to provide alternative fuel, we agree with the sentiment that we humans need first to reduce our use of energy all over the planet. The urgency to renovate society's energy infrastructure is a daunting challenge.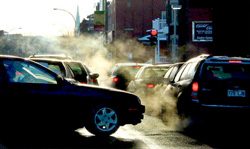 It is also an enormous business opportunity. New and unique sources of solar, wind, bioenergy, waste-to-fuel technologies, present fresh avenues of revenue to rural as well as urban communities. Earnestly addressing environmental redirection provides opportunities to move toward cleaner, healthier forms of alternative energy. But all the optional choices of fuel will not help the final solution if we do not begin to curb our overall consumption of the planet's energy; sending pollutants skyward and downward.