Gas Prices
Please note that CARB diesel has been combined with EPA on-road diesel. 
This is done to track refinery capacity for overall diesel production. 
The yellow area denotes the highest and lowest production or inventory levels for the past five years.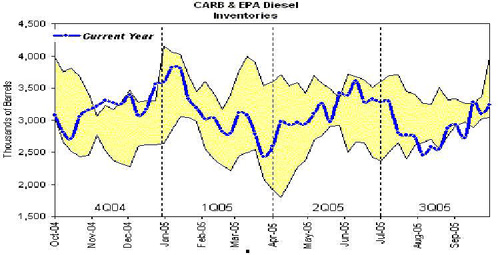 The following website is an excellent resource and overview for all fuel-type information and statistics from the most populous state in the U.S.: California. The heading, Transportation, is frequently updated and full of statistics, charts and other useful information: 

A gallon of gasoline in California contains approximately 111,500 Btu (which is the standard for British Thermal Units). By comparison, M85 contains approximately 65,000 Btu/gallon and E85 contains approximately 81,000 Btu/gallon. The lower energy content of these fuels will result in fewer miles per gallon or a shorter driving range.
| | | |
| --- | --- | --- |
| Gallon of Gasoline to Btu | 111,500 | Gasoline Vehicles |
| Gallon of Diesel to Btu | 140,400 | Diesel Vehicles |
| Gallon of Methanol to Btu | 63,090 | Methanol Vehicles |
Summary - Energy Balance/Energy Life Cycle Inventory
| | | |
| --- | --- | --- |
| Fuel | * Energy yield | Net Energy gain (or loss) |
| Gasoline | 0.805 | (-19.5 percent) |
| Diesel | 0.843 | (-15.7 percent) |
| Ethanol | 1.20 | 20 percent (disputed by some scientists) |
| Biodiesel | 3.20 | 320 percent |
| HC³ Diesel | 8.0 | 800 percent |
By comparison, HC³ is down the road toward minimizing the import oil crisis: